Food
Bagel and Lox – A Classic New York Breakfast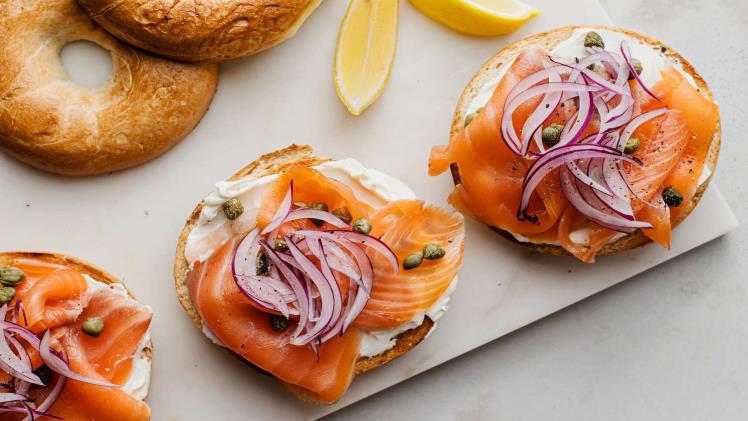 Bagel and lox is an iconic New York breakfast dish. When hosting friends for brunch or just getting together with old acquaintances for breakfast, making the ideal bagel and lox experience requires having plenty of toppings on hand so everyone can customize their sandwich as desired.
Bagels are circular pieces of bread that are first boiled before being baked to produce soft insides and crisp exteriors, perfect for topping with spreads such as cream cheese. Lox is brined and cured salmon that has been thinly sliced to be served atop a bagel with cream cheese as a spread or "schmear."
Though lox and bagels have long been associated with New York City, their combination was created there in the 1930s. Inspired by eggs benedict – two halves of an English muffin with poached eggs topped with hollandaise sauce and poached eggs on either half – bagel and lox were created as an acceptable kosher option that did not violate dairy and meat restrictions.
When making this delicious bagel and lox recipe, use either smoked or cured salmon (you could also experiment with gravlax, an age-old Scandinavian specialty of cured salmon), but the key to creating delicious results is using high-quality ingredients – like Russ & Daughters Ess-a-Bagel Zabar's and similar locations where high-grade lox is sold. If lox is unavailable try substituting with smoked trout or herring.
If you plan on serving this bagel and lox on a board, it is a good idea to place some wax paper or parchment paper under it to prevent its juices from seeping through and sopping up all the space on it. In addition, pre-slicing the lox so it will be ready for guests when they begin creating sandwiches is also highly recommended.
Your typical bagel and lox combo can be served on any type of bagel, though the classics include plain or everything. To mix things up a bit more, consider trying an exotic-flavored bagel such as Asiago or Sesame; or using an interesting-flavored cream cheese like Sourdough Jalapeo!
Set up a bagel and lox buffet at your next brunch or dinner party! Just place bagels, cream cheese, smoked salmon or lox, tomato slices, cucumbers, red onion rings, capers and various toppings such as tomato slices, cucumber slices, red onion rings and capers onto a tray or wood board with plenty of napkins and utensils for guests to use as well as garnishes such as fresh dill and lemon wedges to complete this tasty spread! Enjoy!